Morris Room Grey (SW 0037)
I've had a Morris style bedspread for years and in my first house, I chose Ralph Lauren's Fordham Abbey for my bedroom because it highlighted the color of the spread so well. It's also a very soothing color for sleeping. The color has since been discontinued but we found that Morris Room Grey (SW 0037) was a perfect substitute.
It's a great wall color for a lot of traditional Arts and Crafts items–art, textiles, and copper. This color also worked well with the river sand plaster walls, although the texture oddly collects dust so an occasional wipe down of the walls is key. The windows face east and south.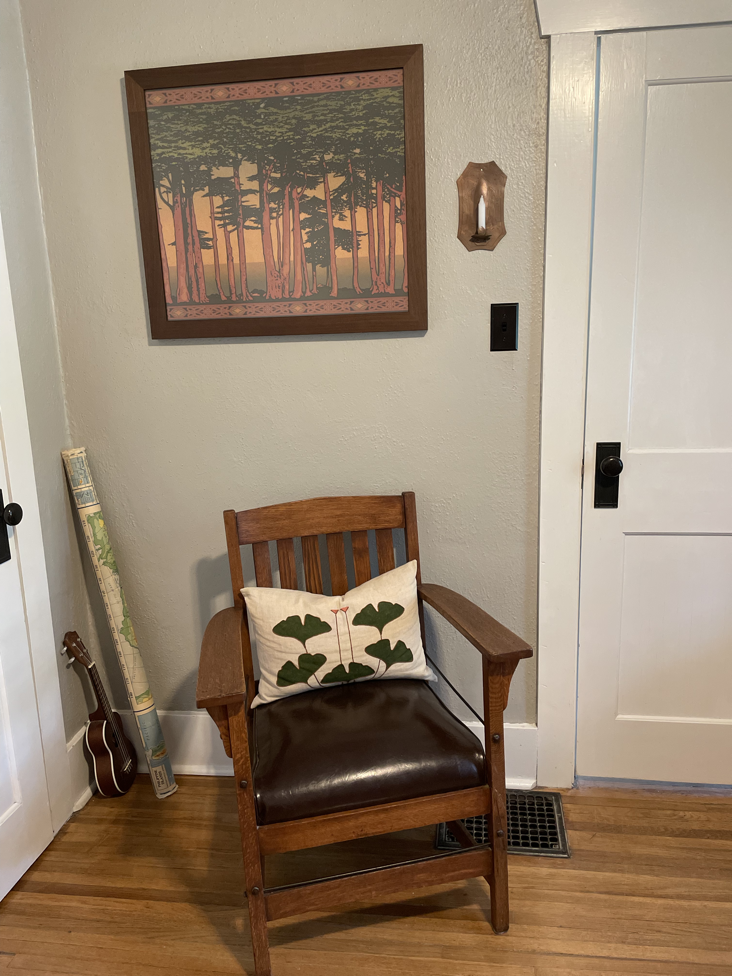 A note on some of the decor. The bedspread is reversible so the photo shows the more muted side–I think of this as Winter and the brighter side as Spring. I have another bedspread from Morris & Co. that works equally well with the wall color. The framed photo is actually a section of wallpaper frieze by Bradbury & Bradbury that my folks purchased at an Arts and Crafts Fair for me.
My mother needlepointed the pillows, along with a few other items throughout the house. And yes, I know what the basket looks like but it's a Native American basket my great grandmother bought at a roadside stand long ago. My grandmother had to hide it in the closet during WWII so no one would get the wrong idea.