We've wanted to replace the off-the-shelf front door that came with the house since day one. It was cheap looking—especially the fake leaded glass domed window. Painting it red and adding a vintage bell cheered it up a bit but didn't hide the fact that it was a complete mismatch for the house. We knew it would be a major project—and one that we'd have to shop out to the experts. Although we weren't absolutely sure what the original door looked like,  many our neighbors have original doors that we were able to use as a guide.
We had the new door custom-made locally at Boone County Millwork. We tested stain samples out on our porch for about a week to find the best option and because the door is solid wood, we tested the colors inside as well.
We had the door delivered and crossed our fingers for good weather.
We had the same contractors who did our back porch and front walkway do the work. It was a good decision on our part—it was clearly a much bigger job than we could have handled.
The new door was wider than the old fiberglass one so they had to remove and reinstall the inside trim. Fortunately (and not surprisingly), the previous owners had rigged the frame to accommodate the smaller door so our guys simply had to remove all the shims for it to fit.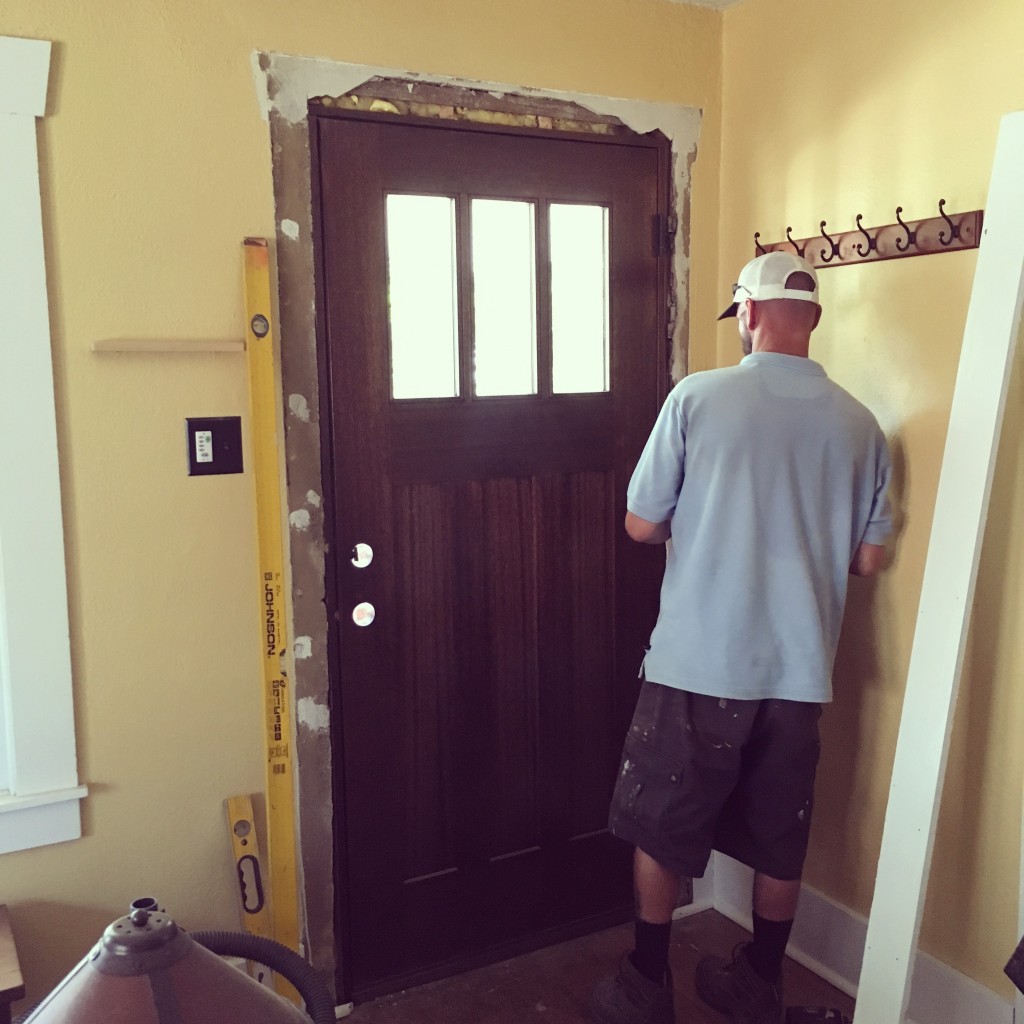 Wyatt is excited for about the first 20 minutes of any project and then it becomes old hat.
We had spent so much time on the style of the door and the stain I completely forgot about hardware. We ended up ordering a set that coordinated with our indoor hardware, but stepped up a notch. Unfortunately, we had to forgo our twist doorbell. The placement of the dental made it difficult and I don't think Jonathan had the heart to drill into our beautiful new door.

We didn't realize it but the effect on the living room was significant. All of a sudden, our home looked more craftsman!
Although I ended up missing the bright red door more than I expected, the final result was wonderful. Little by little we are undoing some of the worst remodeling choices and bringing back the original look of our little bungalow.